Zurich Airport: A Destination unto Itself
By offering more and more amenities, airports are becoming destinations in their own right, with Zurich Airport leading the way.
I have been saying it for years: airports are becoming destinations unto themselves and give immediate clues to an area's culture and lifestyle. Zurich is elegance, precision and refinement and those same elements are visible at the airport. With its unique amenities, Zurich Airport (ZRH) is leading a pack of "destination" airports that includes Amsterdam's Schiphol and Singapore's Changi. But what makes an airport a destination?
By definition, the term "destination" refers to any given area or entity where tourism is a relatively important activity. It could be successfully argued that airports economically rely on tourism because their existence is all about tourism.
One could make the anthropomorphic analogy that airports are the heart" of the tourism supply chain that pumps the lifeblood of tourism, or the tourist, into and out of any tourism area. The vast majority of the people who come to experience the Zurich lifestyle, or the living Zurich, did so by passing through Zurich Airport.
Let's further examine the idea of an airport becoming a destination. Have you ever purposely booked a long layover between flights (or not complained about one) just so you could look around or shop at the airport? I have. I am always happy to have a little time between flights when passing through O'Hare so I can make a trip to the Native American jewelry kiosk in Terminal C.
Have you ever purposely arrived at the airport sooner than you needed to or lingered in one after you arrived at your destination? Or, if you are dropping someone off at the airport have you ever parked the car and gone in to say goodbye and get a cup of coffee at Starbucks? Have you ever stopped to treat yourself to a massage or a spa treatment at an airport? If you have answered "Yes" to any of the above, you are enjoying the service products associated with an emerging trend.
Another concept in the field of tourism is "gateways." This usually refers to cities or towns at the edge of national parks or tourist areas where guests can obtain services such as lodging and food. These gateways are usually destinations in their own right. Consider the towns of Telluride or Park City. These towns are trendy destinations at the edge of world-class ski slopes. With this in mind, Zurich Airport is a gateway to the city of Zurich that is attracting its own share of tourism.
24/7 Airport shopping
When the shops in the neighborhoods surrounding the airport are closed, including those in downtown Zurich, shops at the airport are open seven days a week, 365 days a year even on Christmas. In my travels, I have been to tens of airports where the most desirable shops were all inside security. For example, to get to the aforementioned main shops at Chicago's O'Hare, you must have a boarding pass and have gone through security. Not so at Zurich Airport. While duty-free shopping is still reserved for travelers only, 50 "airside" shops are complemented by its 60 "landside" shops. This arrangement allows earthbound friends and family of travelers and residents alike the chance to shop to their hearts delight any day of the week.
Another way in which Zurich Airport is becoming a destination is that it offers educational and behind-the-scenes tours of its facilities just like a major tourist destination such as a museum. According to Sonja Zöchling, spokeswoman for Unique, the owner's of the airport, Zurich Airport has been offering 75-minute tours to school groups from all over Switzerland for the past twenty years. This is almost unheard of in the United States.
Like any successful destination, ZRH is constantly undergoing updates to stay abreast of the times. The Swiss VIP lounge at Zurich Airport has recently been remodeled and now includes offices equipped with the latest laptops with free wireless Internet (which means you don't have to carry your own) and day rooms with showers. Swiss limestone quarried from the Jura mountain range adds to the restive atmosphere. If you are feeling left out of the luxury crowd, there's hope. In February 2008, ZRH opened the first land-side shower facilities for all passengers, visitors and airport employees. This service cost about $14 per person, including towel and shower gel.
In addition to these trend-setting amenities, Zurich Airport offers everyday conveniences like a post office, pharmacy, hotel and rental car bookings, police and even centrally-located office space just like any town. And, with over 180 companies employing more than 20,000 headquartered at the airport, it's a destination by any definition.
On top of all these pluses, ZRH is conveniently located only 8 miles from downtown Zurich or just a quick 15-minute train ride. That same train system connects passengers to the whole of Switzerland, which means you don't have to pay for an expensive taxi to get to the main train station downtown. The transfer from air to land transportation at Zurich airport is seamless. What they say about everything running like Swiss clockwork is true.
Let's compare ZRH to JFK in New York. Located in Queens, JFK is more than one hour from Manhattan in Queens. If you are a newbie you can easily find yourself paying $100 to get into the city. You literally have to walk, with luggage, to the bus that takes you to the outdated subway. Additionally, JFK is depressingly overcrowded and peopled with impolite employees and overworked government officials. By comparison, the employees at ZRH are amazingly helpful and professional. Bottom line: I completely avoid JFK (and La Guardia for that matter) and choose instead to fly in and out of Newark when I go to New York City.
White Tablecloth dining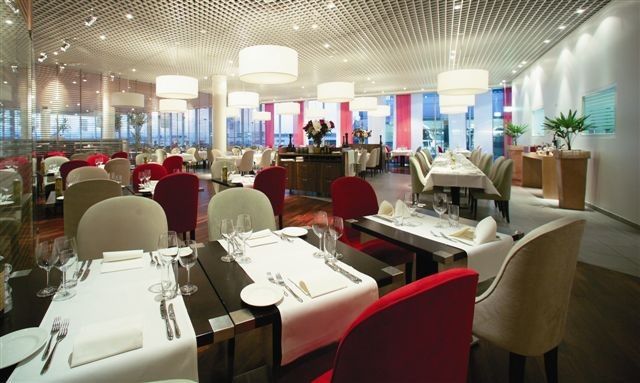 Airports have been famous (or infamous) for serving fast food to a captive audience of busy people on the move. Quality was not a key factor. But here again another trend is emerging; airports are starting to offer full-service fine dining alternatives. In 2007, Zurich Airport was named the  best airport for food and restaurants by Conde Nast Traveler. In addition to the biggest food court in Switzerland, the sophisticated traveler can enjoy a sit-down meal in one of Zurich Airport's upscale restaurants, which feature Italian, Far Eastern or Swiss cuisine. Looking for an inventive place to have a birthday party or a special meal? Consider Zurich Airport.
In 2007, Zurich Airport handled more than 20 million passengers. With so many people passing through, airports ZRH are starting to use their public space for exhibits. We've all seen commercial ads in airport hallways and lining moving sidewalks, but once a year ZRH hosts a month-long exhibition called the "Best of Switzerland" that takes place in both the land-side and airside of the airport. Last year, the exhibition was called "Exciting Times" and the year before, "The Soul of Chocolate." Currently, several Formula 1 cars are on display along with racing memorabilia, before the cars are auctioned off in March.
It is said that making a good first impression is the key to forging profitable, sustainable, long-term partnerships in business or social relationships. In my opinion, Zurich Airport is a perfect diplomat for the city of Zurich, and helps makes friends for the city from the moment of arrival, whether for business or leisure—or football.
For more information:
Author's note: I have a growing scholarly interest in this topic. I would love to hear from you about an airport in your area, or in your travels, that is showing signs of becoming a destination. Click here for instructions on how to contact me.