A Vinegar Barbecue
It was early April and perfect barbecuing weather in eastern North Carolina. The frost was in the air and on my breath. At dusk, I had to return to my car to put on some warm socks. Back in Newport's city park, eighty teams of barbecue experts and enthusiasts were getting ready for action. At 10 p.m., 110-pound, freshly slaughtered and dressed pigs would be distributed for overnight barbecuing, with judging to begin at 8 a.m. In this part of the world, barbecuing is both serious business and a cultural experience. Contestants don't just show up to compete but to socialize under the tall pines, close enough to the heat of the barbecue rig to stay warm.
Held the first weekend of April, the Newport Pig Cooking contest is coordinated by Jim Ferrell. "We attract teams of contestants from a cross section of North Carolina's Crystal Coast," says Ferrell, "including state employees, linemen for the electric company, current and ex-military personnel from nearby Cherry Point Naval Aviation Depot in Havelock, mechanics, retirees, restaurant cooks, nurses, and salesmen."
Some teams, such as Captain Charlie's Cookers, Smokey's Corral, and Hog Heaven, sported colorful names. The Hawgs of Havelock were fielded by area Harley-Davidson bikers. Consisting of a chief cook and up to four assistants, each team came with its own tent and cooking rig–and sometimes outfits. I had a great chat with the team sponsored by the Military Order of the Cooties, a service arm of the Veterans of Foreign Wars. Each team member was dressed in red and sported a fez.
Most of the rigs were stainless steel grills, with a lid built right into a pullable trailer fueled with propane, but I saw a couple of the old-style rigs crafted from 250-gallon oil barrels mounted on a two-wheel trailer and fueled with hardwood or charcoal. One of the biggest rigs was a custom-built, special order grill weighing twelve hundred pounds. (You would need a special place to park this one.) In theory, the key to winning the contest is not who has the most expensive rig but who can couple the best barbecuing skills with the best vinegar barbecue sauce. As old-timers like Ferrell will tell you, it also takes a whole lot of luck.
Derryl Garner, longtime mayor of Newport, is a proud promoter of the city's biggest fund-raising event. Each year, the proceeds go to ten different charities in Carteret County. The impetus for the contest began in 1979, when the Newport Developmental Center needed $5,000 to purchase furniture. Doris Oglesby, director of the center, approached Garner about how to raise the funds.
The mayor called representatives of churches and civic groups and asked for suggestions. Two of the town fathers–Larry Howard and Lionel Garner, the fire chief–came up with the idea of a pig-cooking contest. (This wasn't too far-fetched, since there are probably more pigs than people in the state of North Carolina.) Participants found sponsors who would pay a $100 entrance fee to cover the cost of a pig. The first contest, held that year, had around forty entrants.
Having doubled in size to an average of eighty-five participants, the event has become the biggest whole-hog cook-off in a state famous for pig cookings and hometown barbecues. "The prize is still a modest $1,000," says Garner, "but the winner gets great bragging rights." The 2002 winner, Russell Snyder from Roanake Rapids, North Carolina, was chief cook of a team that just happened to be sponsored by the mayor. This year, the pig cooking will celebrate its twenty-fifth anniversary and the town is getting ready to host fifteen thousand visitors or more.
Why vinegar?
In this part of the world, tomato-based barbecue sauces are anathema. The recipes for barbecue sauces contain vinegar (usually apple cider), some kind of red pepper for heat, and a little salt. Any extra ingredients are optional and usually not divulged. Though I asked many teams for a recipe, all refused to reveal their secret. "I'll be taking mine to the grave" was a common response. I did find out that some sauces were brought to a boil and then cooled to serve; others were slow simmered and served hot. The combinations of ingredients and preparation methods seemed endless.
Eastern-style North Carolina barbecue is generally confined to the coastal plain of North Carolina east of I-95, but fingers of vinegar-based sauce preference extend westward. For example, the Research Triangle Park area of Durham, Raleigh, and Chapel Hill, which lies just west of I-95, sports numerous eastern-style restaurants. Western barbecue officially starts in Lexington, home to a ketchup-based (with a touch of vinegar) festival that draws 150,000 a year. Another east-west difference is that on the coast they roast the whole hog and in the west only the shoulder.
According to James Ferguson, professor of American studies at the University of North Carolina at Chapel Hill, the roots of the vinegar use are disputed, but point to a German influence. Indeed, the vinegar-sugar combo is very European.
Sociologists have mapped the South by its choice of meat and barbecue sauces. Texas is famous for beef barbecue with tomato-based sauces; the Southeast is known for pork barbecue in general and eastern North Carolina, in particular, for slow-cooked pork with vinegar sauce. Unlike Texas cooks, who usually apply the sauce before, during, and after barbecuing or smoking, eastern-style barbecuers use the sauce sparingly if at all when preparing the meat. For example, only about 25 percent of the contestants at Newport applied sauce as a marinade before barbecuing. Just enough sauce to flavor and moisten the shreds of meat was mixed in moments before serving. If desired, Tabasco sauce, Texas Pete, or another vinegar-based hot sauce could be added at the table.
The judging begins
After a long, cold night of barbecuing, with the chief cook and his assistants taking turns resting and watching the pig's progress, the judging began bright and early. I arrived at the park as the judges walked up to the first stall. They began by evaluating the overall appearance and brownness of the pig, then turned it over to inspect the underside. One judge used a sharp knife to check for soft spots in what is supposed to be a uniformly crisp skin. Finally, they tore into the pig to see if it was done. Was the meat golden brown, not burnt? Was it tender and moist? (An underdone pig is disqualified automatically.) Finally, they dipped a piece of meat into the team's rendition of vinegar barbecue sauce.
While the pig and the sauce may be the focus of the judging, there are a few other matters for which points can be added or subtracted. For example, the chief cook is examined: is he clean and presentable even after the long night by the fire? And let's not forget showmanship. Many Newport teams went "whole hog," in creating elaborate decorations around their cookers and on a nearby dinner table. All kinds of themes were invoked, but the most popular was porcine. After taking it all in, the judges completed their score sheets and moved on to the next tent.
It should be pointed out that of last year's eighty-seven contestants, only two chose to cook with wood and two with charcoal. The rest used clean-burning propane. The reason is that wood and charcoal have the inherent disadvantage of producing an ash by-product. It can fly around the cooker, coating the lid, the grill, and the pig–all cause for major point deductions.
After the judging, volunteers retrieved most of the smoked hog, leaving each team with a small portion to share among themselves and with lucky onlookers. I was quickly initiated into the proper method of eating Carolina pulled pork. The perfectly done meat is pulled from the carcass in bite-size shreds, dipped in the sauce, and then thoroughly enjoyed. The warm feeling in my stomach compensated for the air's cold temperature.
Community chips in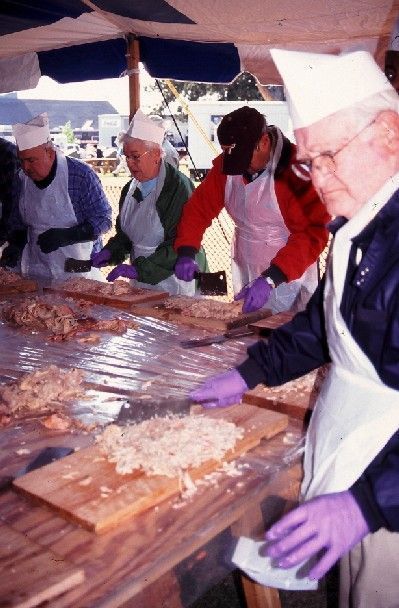 The Newport Pig Cooking contest is fundamentally concerned with community involvement for a good cause. About halfway through the judging process, a rhythmic din arose in the distance. It turned out to be syncopated chopping performed by a line of volunteers who showed up early that morning to ceremoniously chop each barbecued pig (prizewinning or not) into morsel-sized bits of pork.
Deboning as they went along, a line of choppers under a circus-size tent dismantled a hog in a matter of minutes, putting the results in large plastic containers. Next, another volunteer poured in just the right amount of the official vinegar sauce and stirred to coat each piece.
From there, the pork was moved to a staging area, where an assembly line of volunteers worked in unison to create meals of barbecued pork, hush puppies, pork and beans, and coleslaw. If not for this elaborate and practiced ritual of preparation, I'm not sure how the whole thing could have been pulled off. Soon, hungry crowds–undoubtedly tempted by the wonderful aroma–started to arrive. A whole new group of volunteers sold the meals, bused and cleaned tables, and made sure the makeshift drive through set up in front of the mayor's office was supplied with meals. Staffed by members of the Future Farmers of America, it did a brisk business.
Such was my initiation into the world of barbecuing North Carolina style–a weekend of fun and good food. I think I am hooked. Any other type of barbecuing pales in comparison. I wonder if I have room to park a custom-made stainless steel cooking rig in my driveway?
Eastern-style North Carolina Barbecue Sauce
There are undoubtedly as many ways to make this sauce as there are barbecuers in eastern North Carolina, but this recipe is a synthesis of the style.
2 cups cider vinegar
1 Tbsp. sea salt
1 large fresh jalapeño pepper, finely chopped, or 1 small habeñero
1 tsp. cayenne
1 tsp. coarsely ground black pepper
1 Tbsp. firmly packed brown sugar (optional)
Combine vinegar and sea salt in a bowl or capped bottle, and stir or shake until salt is dissolved. Add remaining ingredients and mix well. Keep at room temperature if you plan to use it within a few hours, or refrigerate it for up to three days. To reduce the sauce's final heat or pungency, discard the pepper's seeds and veins. Yields 2 cups.
Newport Pig Cooking Mixing Sauce
This is the official sauce mixed into the finished pulled pork in Newport. They use 3/4 gallon of the sauce to flavor a 5-gallon bucket of barbecued pork, which weighs 50 pounds. This sauce can be used to baste the pig, if one chooses to do so.
1 gallon apple cider or white vinegar
1 cup Worcestershire sauce
1/8 cup crushed red pepper
1 tsp. black pepper
1/3 cup salt
Place all ingredients in a large bowl or small bucket and mix thoroughly.
For additional reading:      
Bob Garner, North Carolina Barbecue: Flavored by Time, John F. Blair, Publisher, Winston-Salem, North Carolina, 1996.
–, Bob Garner's Guide to North Carolina Barbecue, John F. Blair, Publisher, Winston-Salem, North Carolina, 2002.
I attended the Newport Pig Cooking in April 2002. A version of this article first appeared in the April 2003 of The World & I, which had one-time print publication rights only.