In the Footsteps of Joan of Arc
Retracing the path of one of France's greatest heroines from her birthplace in Lorraine to her death in Normandy.
Tributes to Joan of Arc can be found all over France. There are literally countless statues, streets and restaurants named after this national heroine and many museums dedicated to her life. In light of that fact, I find it surprising that there is no official network or integrated signage in France to promote cultural heritage tourism to all the Joan of Arc sites, even though her life and death, by any standards, were seminal events in the country's history.
More is known about Joan of Arc than any other person before her and quite possibly for the next two hundred years. This knowledge is undoubtedly tied to the fact that her trial papers were preserved in London and the Bibliothèque Nationale in Paris. Scholars and writers have studied them for centuries and there are many books and movies about Joan's life, but I have a favorite.
I first got interested in retracing some of Joan's footsteps upon reading Mark Twain's Joan of Arc. He originally published his seminal work on Joan, as well as the writings in Harper's magazine, under the pseudonym of the Sieur Louis de Conte—as if it were a lost manuscript discovered in the National Archives of France and translated by a scholar.
Twain considered this book on Joan his most important literary contribution. He spent twelve years in research and many months doing archival work in Paris and London. Twain wrote about it as follows: "I like Joan of Arc best of all my books; and it is the best; I know it perfectly well. And besides, it furnished me seven times the pleasure afforded me by any of the others; twelve years of preparation, and two years of writing. The others needed no preparation and got none." In the past hundred years, it has had several publishing lives and is today available from Ignatius Press in San Francisco. This is one of the primary resources I used for assembling my travel itinerary.
With thousands of namesake sites to choose from, I confined my pilgrimage to visiting the key places in her life. These included her birthplace in Domremy and nearby Vaucouleurs; Gien, a natural crossroads during her travels through the French countryside and now home to fine porcelain of the same name; Orleans, which she recaptured for the king and France; Chinon, where Joan recognized the disguised king (dauphin); and finally, Rouen, where she was imprisoned and burned at the stake. I did this trip in eight days, but would recommend a more relaxed approach.
Along the River Meuse
Joan was born during the Hundred Years' War, a time when England laid claim, through conquest and intermarriage, to parts of France. This was also the era of the Great Schism, when the papacy was divided between Rome and Avignon, France.
She was born into a peasant family on January 6, 1412, in the village of Domremy-la-Pucelle in Lorraine. The river Meuse cuts through the rolling hills, creating a beautiful pastoral scene. Domremy is a sleepy town known primarily for its connection to Joan. As you enter the small, empty yellow house where she was born, it is hard to imagine what life would have been like so long ago. Next door an interpretative center—but most of the commentaries are in French, as it is not really geared for international tourists. It was here that I learned that Joan's given name was Jehanne. At the museum, you can see examples of her flamboyant signature.
At the age of thirteen, in a wooded area about one mile outside the village, Joan started hearing the voices of saints Michael, Catherine, and Margaret. The voices inspired her to take on the mission of freeing France from the English. On that site stands the Basilica du Bois Chenu. The cathedral itself is not spectacular, but the view of the river valley from its steps is.
About twelve miles north is the town of Vaucouleurs. Here, Joan the humble shepherdess demanded that the governor provide her with troops to fight the English. The Musée Jeanne d'Arc à Vaucouleurs was one of my favorite tourism spots. It is full of historical-themed posters that commemorate her battles or advertise the movies about the Maid of Orleans. My favorite memorabilia was a U.S. government World War I-poster. A triumphant Joan, wrapped in a halo of white angelic light and framed in a field of patriotic blue, is summoning the women of America to save their country by supporting the efforts of their men fighting overseas. (This is the image that leads the story–see above.)
A key crossroad
Gien, a quaint town on the Loire, was one of the main crossroads in Joan's Chevauchée, her horseback ride undertaken in the name of crowning the king in Rheims and liberating France from the English. Her route crisscrossed passed through this little town three or four times. Today, Gien is home to a faience, or fine china, company of the same name. One of the highlights of my trip was a visit to the factory museum and outlet store. Gien is sold in the United States in upscale stores, but imported patterns and pieces are limited. At the museum, you can see large exposition pieces from the nineteenth century, commemorative plates, some in honor of Joan of Arc, and all their patterns. The outlet store attracts natives and tourists alike. I bought a wonderful "Pivoines" cake plate hand painted with peonies.
My next stop was Orleans. Here, Joan's army won its first major battle against the English. The Siege of Orleans took place on May 8, 1429 and is commemorated each year on that date with the Fêtes de Jeanne d'Arc. The annual celebration, which has taken place every year since 1429, is a major event. A parade runs through the town past the cathedral and ends on the Place du Martroi, a square that is dominated by a towering statue of Joan on horseback. The residence of Jacques Boucher, who hosted Joan, is now the Maison de Jeanne d'Arc. Another spot is the Centre Jeanne d'Arc, which compiles scholarly writings about Joan and memorabilia from around the world.
My son and I arrived on a Sunday and found the town fairly empty except for a few Japanese tourists. The museums were closed, so we hopped on a trolley in front of Cathédrale Sainte-Croix for the city tour. It took us past all the important spots and back to the cathedral. Inside, we found one of the largest paintings of Joan in France. The next day, we toured the museums and had a lunch of regional fare at Le Café du Martroi, a local gathering place.
All in all, Orleans is somewhat of a dark spot on the route—unless, I suspect, your visit is synchronized with the Fêtes in May or the Orleans jazz festival in the summer. While there are plenty of nice shops and restaurants, the town lacks upscale accommodations, so if were to visit again, I would make it a daytrip. Daytrip or longer, don't forget to pick up some souvenirs of coings cotignac, a quince jelly that comes in a wooden container bearing Joan's image.
Chinon Castle
To get to Chinon, you must take a small detour out of the Loire valley to a tributary called the Vienne. Here, at Chinon Castle, is where Joan recognized the dauphin, Charles VII. Upon arriving at the castle, some of Joan's men noticed that things are not as they should be, but that an imposter was sitting on the throne. Twain describes what happened:
          "They have taken advantage of the hint in her letter to play a trick upon her! She will err, and they will laugh at her. That is not the King that sits there."
          Then I glanced at Joan. She was still gazing steadfastly toward the throne, and I had the curious fancy that even her shoulders and the back of her head expressed bewilderment. Now she turned her head slowly, and her eye wandered along the lines of standing courtiers till it fell upon a young man who was very quietly dressed; then her face lighted joyously, and she ran and threw herself at his feet, and clasped his knees, exclaiming in that soft melodious voice which was her birthright and was now charged with deep and tender feeling—
          "God of his grace give you long life, O dear and gentle Dauphin!"
This scene played in my head as I toured the ruins of Chinon. The Great Hall where the historical event took place is now open to the elements. I was told that over the centuries the bricks of Chinon Castle had been confiscated for other building projects. So much is gone, but there is still plenty to see, including another Joan of Arc museum located near the entry gate. This one is four stories high, and from the top you have a wonderful vantage point to view the city.
Isolated and remote, Chinon was unscathed by the bombing during World War II. As you walk the quaint city streets, you can see many centuries-old half-timbered houses that are still lived in. The stone staircase from the town up to the castle is still open and in great use. The renowned writer Rabelais called Chinon home, a fact evidenced by street and restaurant names. The Loire region is a major wine growing area, and Chinon wines are some of the best–so remember to take home a bottle or two.
On to Normandy
Perhaps one of reasons there is no unified presentation of Joan of Arc sites in France is the great distances that one must travel through several official government regions to visit them.  Even a rudimentary course encompasses Lorraine in the east of France, the Loire valley in its mid section and then jumps north to Rouen in Normandy.
It takes several hours to drive from the Loire to Rouen, so you might want to stop in the city of Chartres on the way. Chartres is famed for its cathedral—and specifically its labyrinth, which was laid in the cathedral floor around 1220. Sadly, wooden chairs cover it most of the year, so I was unable to walk the labyrinth as hoped.  I consoled myself with lunch at the nearby Le Grand Monarque. The restaurant of this privately owned Best Western hotel gets high marks and served up one of the best meals I had in France.
Rouen, about an hour and a half north of Chartres, was the site of Joan's imprisonment and death. Here she was burned at the stake on May 30, 1431, at the tender age of nineteen. Most of the Joan of Arc sites are in or circle the Place du Vieux Marché, the old public marketplace. In the center of the square is the Église Ste-Jeanne d'Arc, a beautiful modern church of Scandinavian design. Nearby is the exact location of her death, known as Le Bucher. A flowerbed marks the spot, and there is a constant trail of visitors.
Yet another museum sits across from the church. Dioramas tell the story of Joan, taking the visitor on the same trail I had just driven—albeit more rapidly. The manager was keen to have me see everything, including Twain's Joan of Arc in French. I was happy to hear he gave it high praise, as some French had dismissed it as inaccurate or insignificant.
Here I was inspired to ask for insight into a phenomenon I had noticed along the trail—the plethora of Japanese girls. Without skipping a beat, he answered, "Don't you get it, Joan was a samurai. She gave her life and energy to protect and honor the king—just like any true samurai. Hence, the admiration and attraction."
Next door to the museum is the oldest restaurant in France—La Couronne, the Crown, established in 1365. According to Darwin Cauvin, the sophisticated and congenial current owner, this is the restaurant where the late Julia Child had an unforgettable meal that inspired her to research and write about French cuisine. The result was a classic: Mastering the Art of French Cooking.
I had finished my lunch before Cauvin came by the table to chat. She told me of Julia's inspirational meal, which included the following: oysters on the half shell, a bottle of Pouilly-Fuissé, sole meunière, a salad, crème fraîche and café filtre. I am definitely going to order that meal the next time I'm in Rouen.
After lunch, I had the energy to explore the town to see its historical half-timbered houses and local pottery. Notre Dame Cathedral, made famous by Claude Monet's paintings, is a stroll away from the Place du Vieux Marché down the Rue de Gros Horloge, the town's main street. My trip coincided with France's Independence Day on July 14th. So, that evening I had the privilege of watching a wonderful light show from the studio where Monet painted his famous cathedral paintings. It was a great vantage point to see the cathedral transformed with a series of innovative light patterns. (Lumières are very popular in France. Chartres Cathedral also had a lightshow during the summer of 2004.)
While strolling down the Rue de Gros Horloge, be sure to visit a delightful confectionary shop called Auzou. It sells Larmes de Jeanne  (tears of Joan), a sweet consisting of a toasted almond encased in caramel, then chocolate, and finally dusted with cacao. I'm not sure what these candies have to do with Joan's life, but they are wonderful.
What I missed
Driving to Lorraine from the airport, I sped past Rheims, Joan's ultimate destination on her ride through France. Rheims was where all French kings had been crowned for centuries and Joan was resolved to get Charles VII there for coronation so he would be viewed as a legitimate king. She achieved this goal and fought on—but soon faltered.
The other key site I wanted to visit was the Bibliothèque Nationale in Paris. The transcripts of Joan's trial are housed there, but are not open to the public. Twain pored over these papers while researching his book. Advance arrangements would have been necessary and I am not sure a visit could have been accomplished unless I was a scholar.
I would have enjoyed a longer stay in Rouen. There are several sites I had hoped to visit such one in the cemetery of the abbey of St. Ouen, where Joan was pressed to recant her divine calling, and the tower were she was imprisoned until her execution.
Other destinations worth visiting throughout France include Patay, the site of another decisive battle; Poitiers, where she underwent a fortnight of formal inquiry by clergymen into her orthodoxy and chastity (upon winning their approval she returned to Chinon to meet the dauphin); and Compiègne, where she was captured by the Burgundians and imprisoned for seven months before being turned over to the English.
The truth is that with thousands of historical and namesake sites in France, the job of visiting everything to do with Joan of Arc is daunting, if not impossible. I hope to return soon to cross more of them off my "must see" list.
For More Information: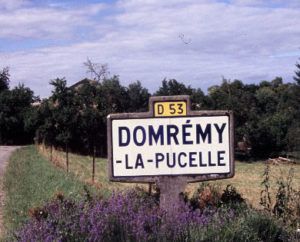 Maid of Heaven, www.MaidofHeaven.com
Museum of Gien Faïencerie, Gien, http://www.gien.com
Maison and Centre de Jeanne d'Arc, Orleans, www.ville-orleans.fr/jeannedarc
Musée Jeanne d'Arc, Rouen, www.jeanne-darc.com
Larmes d'Jeanne, Rouen, http://www.auzou-chocolat.com/pages/Specia.htm
International Joan of Arc Society, http://www.smu.edu/ijas/ped.html
Pernoud, Regine and Marie-Veronique Clin (edited by Bonnie Wheeler, translated by Jeremy Adams). Joan of Arc: Her Story, St. Martin's Griffin, New York, 1998.
Twain, Mark [Samuel Langhorn Clemens]. Personal Recollections of Joan of Arc. by the Sieur Louis de Conte (Her Page and Secretary), Freely Translated Out of the Ancient French into Modem English from the Original Unpublished Manuscript in the National Archives of France by Jean François Alden. Illustrated by F. V. du Mond (New York: Harper's 1896; also in The Writings of Mark Twain. Vols. 17-18, New York: Harper's 1922-1925).
Twain, Mark, Joan of Arc, St. Agnatius Press, San Francisco, 1989.