The Charlevoix region of Quebec owes its unique geography to a meteorite that helped shape not only the land but its agriculture and cuisine.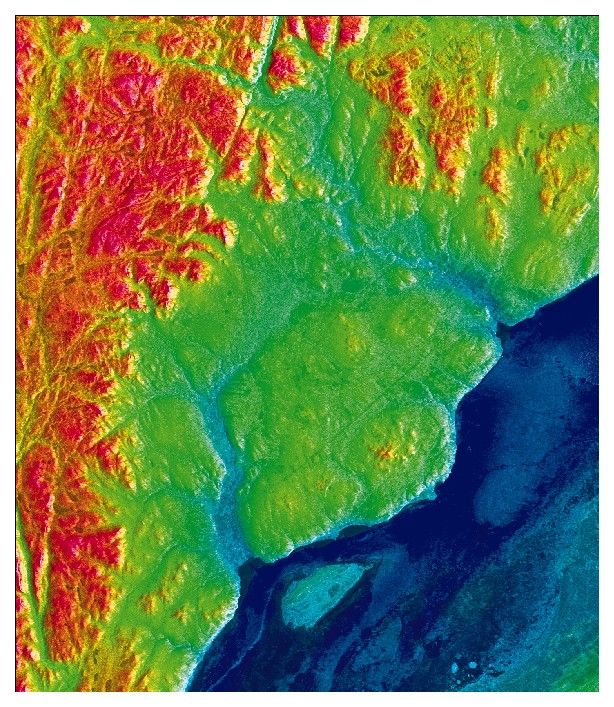 "If a meteorite had not hit Charlevoix," says François Lessard, cofounder of the Natural History Center of Charlevoix, "today the region would still be covered with the High Laurentian Mountains down to the St.Lawrence River." Lessard was referring to a fifteen-billion-ton, two-kilometer-wide meteorite that fell to earth along the north shore of the St.Lawrence in the late Devonian period–some 350 million years ago. The impact created the forty-mile-wide crater that is the heart of Quebec's Charlevoix region, ranging from just west of Baie-Saint-Paul to just east of La Malbaie. Today, the area inside the crater is home to 90 percent of Charlevoix residents and is a very pastoral setting by comparison to what it could have been. For example, the famous ski resort Le Massif lies just outside the meteorite's impact zone but still in Charlevoix. At Le Massif, downhill skiers enjoy some of the steepest slopes in North America, part of the High Laurentians, and are able to "ski to the sea."
Meteorites are not the only geological events to have shaped this landscape.According to government figures, Charlevoix is the most active earthquake zonein eastern Canada. In fact, the town of Les Eboulements owes its existence to this phenomenon; its name refers to a gigantic landslide that occurred in 1663after an earthquake. This event changed the shape of the region, albeit on a smaller scale than the Devonian meteorite. The landslide caused part of the coast to be swept into the St. Lawrence and a tongue of land to jet out into the river.
Though it offers a sweeping landscape and rolling hills, Charlevoix is definitely underpopulated. After visiting, I think I have figured it out. By the time you get to Canada, the Gulf Stream has long since deserted the northeastern coastline and taken off across the Atlantic to warm up northern Europe. Instead, the Labrador Current, flowing down from the Arctic, refrigerates the nearby Gulf of St. Lawrence and the river. Needless to say, the St. Lawrence River is virtually unswimmable due to the resulting frigid, year-round water temperature and the lack of sandy beaches. If it were not for this, I am sure the whole coast would be filled with summer homes and packed with tourists.
As it is, the average tourist looking at a map might be fooled into thinking that the coastline is deserted. On the contrary, small farms and villages dot the gently rolling hills that form the north bank of the St. Lawrence River.Many of the farms are laid out in their original fashion, with long, narrow strips of land running from the coast up the hill to a stand of trees. This eighteenth-century artifice allows each farmer to own waterfront, arable land, and woodland in one plot and results in a quaint and unique pattern on the countryside.
At present, 75 percent of the tourists drawn to Charlevoix are fellow Quebecois or Canadians seeking to learn more about their own roots and culture. As they buy cheese or blueberry wine, they chatter in Canadian French with their hosts and merchants. But don't be intimidated. This strong provincialism does not detract from the warm welcome accorded to foreigners, including Americans, by the merchants and locals in general–although I did notice that they made an effort not to neglect their Quebecois customers by over attending to us.
Canadians are famous for friendliness, and language is not a barrier in Charlevoix. I observed many a slim, young Gallic lass or lad, with dark hair, light complexion, and mellifluous English, charming tourists visiting their parents' or employer's cottage industries. The natives of Charlevoix exhibit the simplicity and directness of a bygone era. They even have time to talk to you–how refreshing in this hectic, materialistic era!
The flower-filled Les Eboulements is a good vantage point for looking at the St. Lawrence Seaway below.
Thinking vertically
I have often wondered why, when it comes to North American geography, the average American thinks horizontally (that is, the map in his heads goes fromNew York to Los Angeles, or vice versa, but does not visually include Canada andMexico). I think it has a lot to do with elementary school maps of the UnitedStates that print the lower forty-eight in color and Canada and Mexico in black and white and television weather reports that do the same. Hence, when easterners think of cool summer vacations, they think Vermont, New Hampshire, and Maine. Only a small percentage take the mental effort to think vertically and include Quebec or the Canadian Maritimes.
But things are changing. The American dollar remains strong against theCanadian, and Canada has a strategic plan to entice Americans to "go north." If you are ready to give Canada a chance, or if you want to explore a different part of Canada, I suggest Quebec for the warmth and Old World charm of the French-Canadian culture and its Charlevoix region in particular.
The government of Quebec has made exploring the province easier, at least mentally, by dividing it into twenty designated tourist regions. Charlevoix, one of the smaller regions, extends from the Quebec City tourist region, in the west, to Saguenay-Lac-Saint-Jean, in the north, and Manicouagan, on the east.(You might need a map to conceptualize this.) The roads are great and the area is easy to navigate, especially if you have a few days like I did.
Home base during my August visit to Charlevoix was the Le Manoir Richelieu, a world-class Fairmont resort and casino overlooking the St. Lawrence Seaway at the city of La Malbaie. From the summit of Pointe-au-Pic cliff, the majestic405-room resort towers over the river. A recent $140 million renovation hasgiven it a complete face-lift, with all the modern conveniences (including high-speed Internet access) provided in every room. Although seriously tempted to stay at the Richelieu all day to enjoy its salt- and freshwater pools, three restaurants, a casino, and four-hand massage at the day spa, I was on a mission to travel Charlevoix's Route des Saveurs, or Flavor Trail.
The Flavor Trail
August is wild blueberry season in Quebec. Countless roadside stands advertise blueberries for sale, or simply bluets. The owners pick them from their properties and other secret spots in the wild, and you can buy a huge box for a few dollars. Wild blueberries don't grow on bushes but in low-lying carpets, often mixing in with the forest vegetation. Often growing side by side with blueberries areamélanchier, a small bush that produces a blueberry-size fruit with a prunish taste. These natural treats are a backdrop to the Route des Saveurs, composed of twenty-nine producers and restaurants. With only five days to visit the trail, I was up and out each morning on a new culinary expedition. All kinds of gourmet foods are produced by the trail's purveyors.
Protected by the surrounding hills, the fertile fields around Les Eboulementsand extending down the river to the town of St. Irénée enjoy a microclimate with an additional three-week growing period. I witnessed the benefits first hand at Les Jardins du Centre, a family farm that produces a bounty of organic fruit sand vegetables to sell to the public and area restaurants. "At the small town of Cap-aux-Oies on the St. Lawrence, until recently you could even find fields of corn and tobacco," says Bertrand Dion, the regional director of tourism.
One of my favorite stops was Le Ferme Eboulemontaise, which is located on the hill above the landslide town. The farm's impressive organic garden, managed with integrative pest management techniques, was home to forty-five kinds of sunflowers and the source of most of the ingredients for an on-property restaurant called Les Saveurs Oubliées, or "forgotten flavors." Chef Régis Hervé took us on a tour of the gardens and invited us back to eat one of the house specialties–a Charlevoisienne broad bean soup.
Another stop on the Flavor Trail was the Laiterie Charlevoix. An economusée, orecono museum, it is part of another network of businesses in Quebec, each of which specializes in a craft or trade. In this case, the craft is cheesemaking.I was especially impressed with the raw milk cheddar cheese–so much so that we went out of our way the next day to go back for more. Just a few doors away was the affinage, or aging house, of Migneron de Charlevoix, a cheese found listed on restaurant menus throughout Quebec.
One morning we visited Clifford Smith's fish farm. Though not a great proponent of fish farming, I was impressed with his system of cold freshwater ponds for raising Yukon arctic char and speckled trout using a minimum of chemicals. Other interesting artisanal efforts included emu farming at the Centre de l'Emeu deCharlevoix; Les Serres Lacoste, an enterprise that specializes in growing hot house organic tomatoes for local use and export; and the Fumoir Charlevoix, a smokehouse for salmon and other fish that also produces a fine foie gras.
Just off the coast near Les Eboulements lies Isle-aux-Coudres, a charming island that makes a perfect day-trip. A ferry takes visitors and residents back and forth from the mainland. Jacques Cartier named the island in 1535 when he noticed a kind of hazelnut growing there. (The old French word for hazelnut is coudre.) The island is perfect for bicycling and is a favorite of families. TheFlavor Trail stop on the island was the Ciderie, Vergers Pedneault, famous for its vinegar making and cider brewing. In addition to apples, the orchards contain cherries, plums, and pears. While at the cider mill, locals were arriving with buckets of handpicked wild amélanchier. Some of the purplish berries would be made into fruit drinks enhanced with distilled spirits called mistelle, some were to be frozen for future use, and some would be sold to kitchens like those at the Richelieu.
In my mind, the only blemish on the otherwise perfect pastoral landscape of Charlevoix was a growing presence of hog confinement facilities–a controversial development that is opposed by many locals.
The hinterlands
Charlevoix has 2,300 square miles to explore. Thirty miles inland from the river begins the "hinterlands," a wilderness of forest, mountain, and wildlife preserves. Cross-country skiers have unlimited options in the valley sand mountainous trails. For example, Sentier des Caps is a 30-mile trail interspersed with lodges that is accessible year round for hiking, snowshoeing, and cross-country skiing. Another popular and well-organized winter sport is snowmobiling, with local clubs responsible for maintaining the 250-mile network of routes across field and forest.
While I spent most of my time driving the Shore Road, a whole different experience awaits in the hinterlands and its two huge parks: the Parc Nationaldes Hautes-Gorges, with its valleys slicing through the mountains, and the Parc National des Grands-Jardins, which boasts both taiga and tundra. Interesting creatures, including caribou and wolves, may be encountered in this region.
Since it was summer and far from snow season, I settled for lunch in the hinterlands. With map in hand, I set out for Auberge de la Miscoutine. Close to both parks, it exemplifies outback comfort. "Our guests, some presidents and CEOs, have been known to come to breakfast in their pajamas," saysPhilippe Davigo, the Breton owner. I wouldn't be surprised. The log cabin architecture definitely inspired relaxation, and the property is linked to one of the main snowmobile trails.
Lunch was really only one item, a plate-size Breton pancake made of buckwheat flour filled with thinly sliced Canadian bacon and Swiss cheese that was served with some local beer. It was absolutely delicious.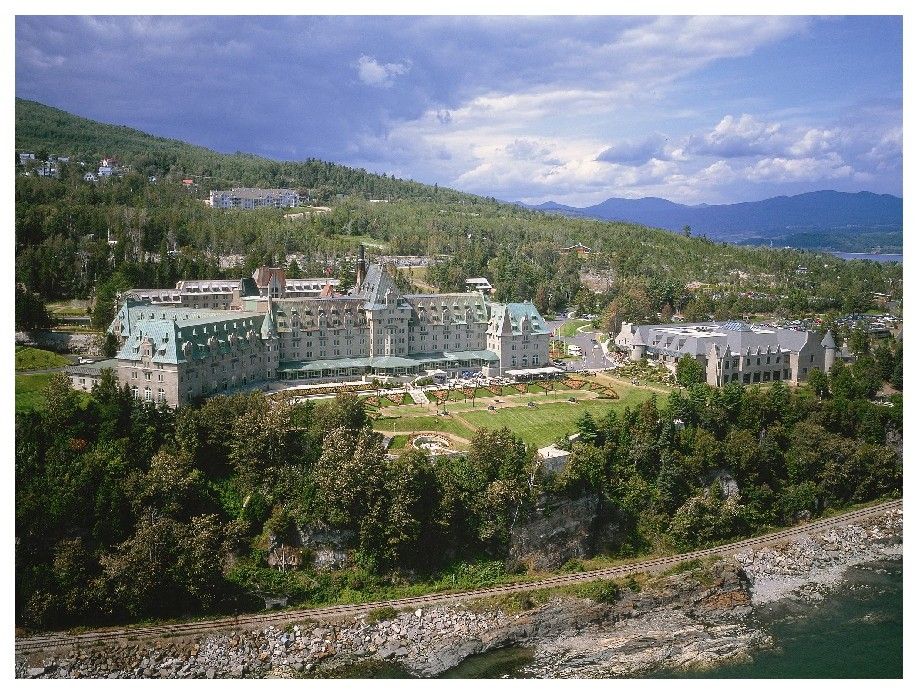 An aerial view of the Fairmont Manoir Richelieu at stands on the shores of the St. Lawrence Seaway at La Malbaie.
Back at the Richelieu
Though I ate well throughout Charlevoix, some of my most memorable dining experiences were back at Le Manoir. Let's start with breakfast. The resort served the basic American breakfast–bacon, eggs, orange juice, and coffee–with a twist that I couldn't get enough of, thin pancakes filled with maple cream.Since visiting Quebec in August precludes experiencing a typical cabane á sucre,or spring sugaring party, when the farmers start to collect and boil down the maple sap, eating these sweet morsels was the next best thing. Did I mention the accompanying bowl of blueberries?
A tour of the Richelieu's main kitchen with French-born executive chefJean-Michel Breton ended with an invitation to dinner that night at the hotel's upscale restaurant. I was seated at a table overlooking the St. Lawrence just as the sun's rays were disappearing from the water below. After some wine, an absolutely sumptuous and unforgettable nettle soup called crème d'orties arrived. Sous-chef Nathalie Leduc, who was tending the kitchens for the evening shift, described the simple ingredients–butter, onions, cream, young nettle tops gathered from the hills, and salt and pepper. At my request, the main meal was beef tenderloin served with an amélanchier sauce. Lamentably, I was just too full to sample more of the menu's regional specialities, but I forced myself to squeeze in a dessert of crème brûlée accented with bourbon blueberry jam.
A trip to Charlevoix would not be complete without a whale-watching cruise on the Saguenay River, a fjord that forms the northern border of the tourist region. Because the Labrador Current oxygenates the water, the confluence of the Saguenay and St. Lawrence teems with wildlife. Humpback, minke, and beluga whales are what everybody hopes to see. Cruises leave every morning from the towns of Baie-Ste. Catherine or Tadoussac on the shore of the Saguenay River. I wasn't lucky on the day I cruised–no whales in sight. But when I got back to shore, I assuaged my sorrows with a good glass of wine, some more heavenly Charlevoisienne cuisine, and dreams of a return visit to Charlevoix in the winter.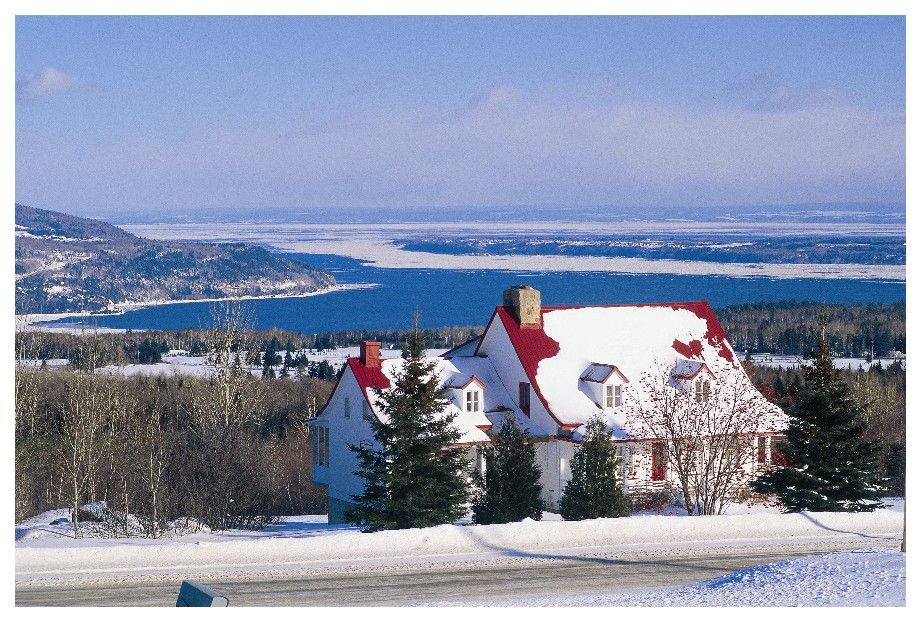 For more information:
Charlevoix Tourism
1 (800) 667-2276
www.tourisme-charlevoix.com
www.bonjourquebec.com
Fairmont Le Manoir Richelieu
181, rue Richelieu
La Malbaie, Quebec
Canada G5A 1X7
(418) 665-3703
http://www.fairmont.com/richelieu/
Natural History Center of Charlevoix
444, boulevard Mgr-De Laval
Baie-Saint-Paul, Quebec
Canada G3Z 2V3
(418) 435-6275