Cast Iron Cooking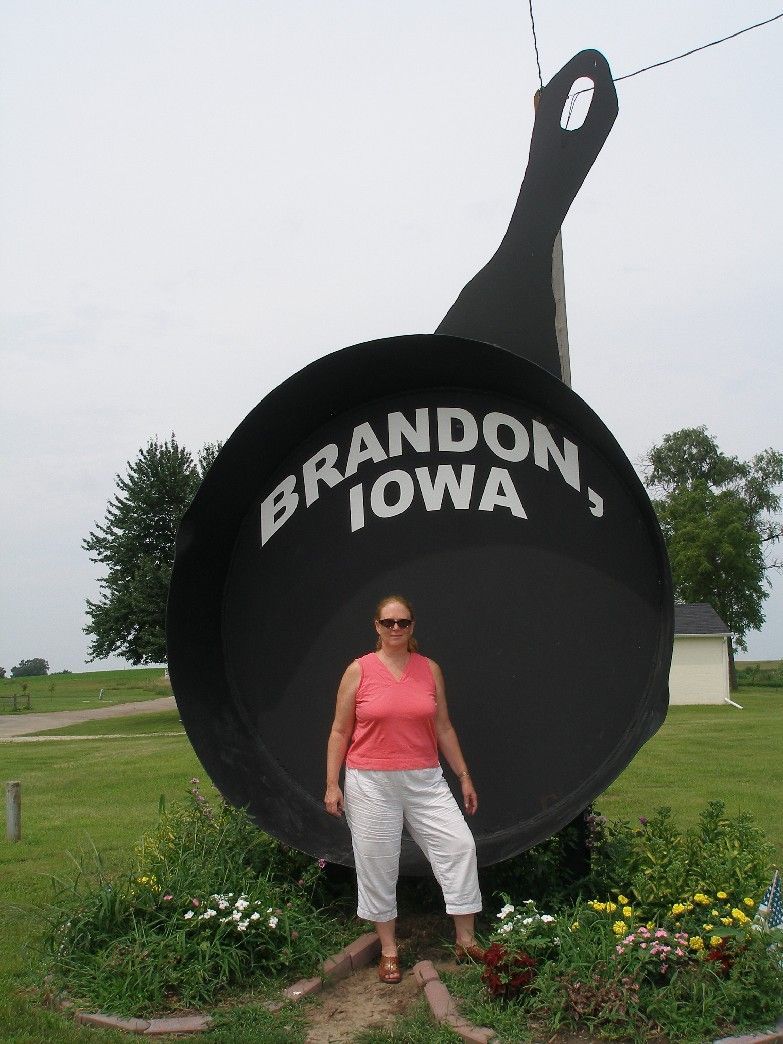 A heavy, but essential, addition to the kitchen, cast-iron cookware is dependable and full of history.
That's me standing in front of the largest frying pan in Iowa. It's used once a year at a Cowboy Breakfast fundraiser.
It looks like cast-iron, but it's steel, which is kind of close. Cast iron is 50 percent pig iron and 50 percent steel. It's cooking properties have been championed and cherished for generations. Since this souvenir frying pan is only used once a year, I guess it's okay it's  only made of steel. But if it were going to be used everyday, cast iron would be a much better choice of material.
I have a favorite cast-iron pan in this very shape. I use it for so many things: frying bacon or steaks is my favorite way. I also have some novelty cornbread pans shaped like ears of corn and another of cactus, but they don't get the same heavy use I give my 12-inch Lodge skillet. It's a workhorse.
I also have a wonderful cast-iron comal, or large griddle for making El Salvadorean pupusas. It that stretches across two burners to make room for cooking five or six pupusas at a time.
The technology for making cast-iron cookware has come a long way in the last 100 years, but each piece is still cast in sand moulds. Yes, sand. This method goes back to the Chinese. At Lodge, the biggest cast iron company in the United States, the iron/steel mixture is melted with electro-magnetic heat to 2,500°F. The pouring of the molten metal into the sand moulds has been automated. It's this automation that has made Lodge the industry leader–and survivor. They were also the first, and only, cast-iron company to offer a pre-seasoned pan. This means the pan is ready to go when you buy it.
I bought a pre-seasoned pan as a Christmas gift for a friend who is trying to transition away from Teflon–and get rid of some old pans in sore need of replacement. There truly was no need to pre-season. All the hard work had already been done. All she had to do was enjoy it.