Rhubarb Custard Pie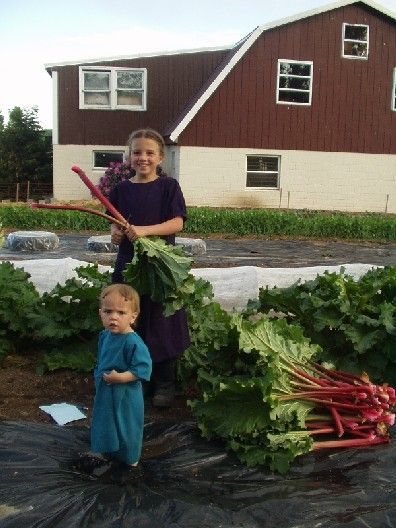 This Amish recipe combines the tart of rhubarb and creamy custard for a delightful pie. Kudos go to Barbara Zook of Lancaster County, Pennsylvania for this great recipe. I have doubled the filling on her original recipe in order to make enough to fill a 10-inch lard pie crust.
Filling:
2 eggs
1½ cup white sugar
2 tsp. vanilla
¼ cup white flour
4 cups diced rhubarb*
Crumb topping:
¾ cup spelt or pastry flour
½ cup maple sugar
1/3 cup butter, melted
Cream eggs and sugar, add the vanilla and flour; stir to incorporate. Add the rhubarb and stir. Pour the rhubarb mixture into a prepared pie crust. Mix together the topping ingredients and crumble onto the top of the filling. Bake at 400°F for 10 minutes, then reduce heat to 350°F and continue baking for 30 minutes or until a toothpick comes out clean.
*The other day, I made this pie with fresh peaches. Because peaches are softer and juicier than rhubarb, I added another egg.