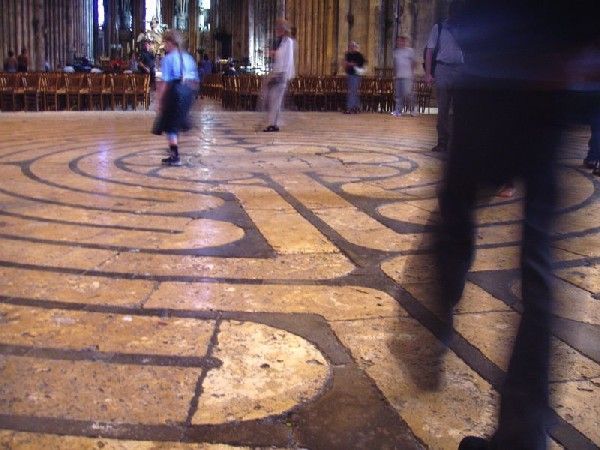 In March 2000, a year and half before 9/11, I got the privilege of walking an outdoor labyrinth of the East Lawn of the Capitol in Washington, DC. With high security measures in place, sadly this event would never be allowed to happen today. The labyrinth pictured above is a portable labyrinth made out of plastic, but the organizers had also created a labyrinth made out of small flags on the lawn.
Walking a labyrinth in modern times is called a "full body prayer," or a "walking meditation," but I enjoy them for stress reduction. Historically, walking a labyrinth was considered a substitute for making a pilgrimage to the Holy Land or Rome. One of the most famous labyrinths was laid into the floor of Chartres Cathedral outside Paris in 1220.
I visited Chartres Cathedral in 2003(left), but sadly found it covered with chairs. I later found out it is only open to the public for walking on special days. I had more success in San Francisco. Its Grace Cathedral has an indoor wool tapestry labyrinth, as well as an outdoor labyrinth that is made of terrazzo stone. The indoor labyrinth as usually open from 7AM to 6PM, but the outdoor labyrinth is open 24 hours a day. Grace Cathedral is also home to Rev. Dr. Lauren Artress, President and Founder of Veriditas™, The Voice of the Labyrinth Movement.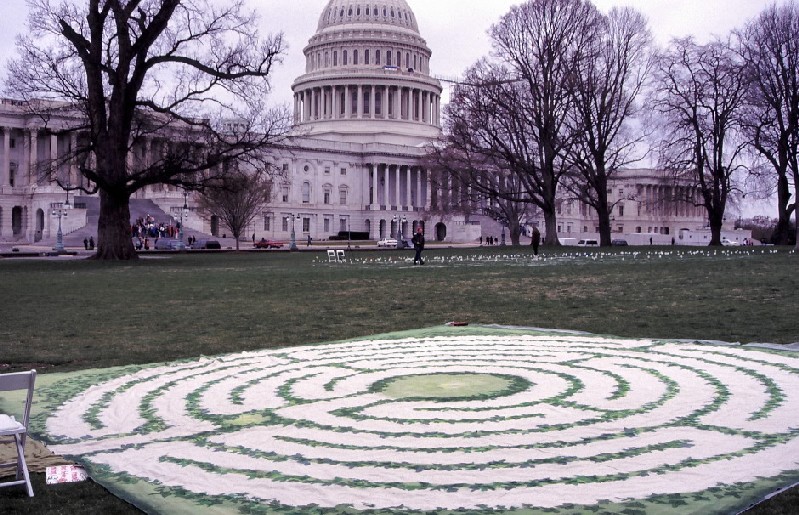 Labyrinths date back to the island of Crete, where they had 7 circuits, or turns, that take you to the middle and then back out again. Labyrinths are designed as guided walk in a compact area that allows you to stop thinking and relax. They are different from mazes that are designed to confuse you and test you–you are forced to make decisions. The goal of walking a labyrinth like the Chartres Cathedral one (above), is to meditatively walk from the beginning into the middle of the labyrinth and back out again.
I always look for them when I travel. They are becoming increasingly popular and most of them are open to the public. Use the Google search box below to find a labyrinth in the destination you will be traveling to next.