Scotch Eggs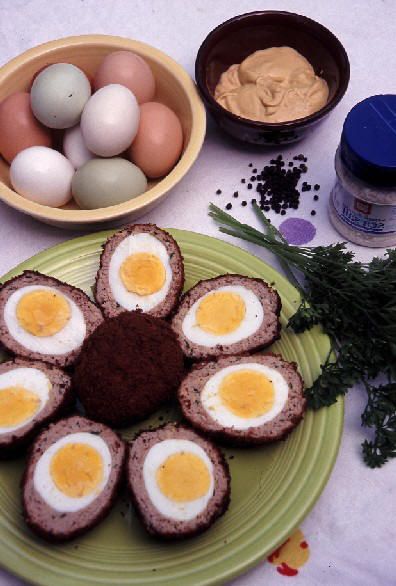 Concentric circles of sausage, egg white, and egg yolk make these festive-looking eggs the hit of any party. Used by permission of Kay Shaw Nelson from The Scottish-Irish Pub and Hearth Cookbook.
12 hard-boiled eggs
all-purpose flour
2 lbs. pork sausage
1/4 cup minced onions
1/4 cup finely chopped fresh parsley
salt and fresh-ground black pepper
3-4 large eggs, beaten
about 2 cups fine dry bread crumbs
lard or peanut oil for frying
Cool and shell the eggs and wipe dry with paper towels. Roll each one in flour to coat lightly, then set aside.
In a large bowl, combine the sausage, onions, and parsley. Season with salt and pepper, and mix thoroughly. Divide mixture into 12 equal portions and flatten into thin rounds. Place one floured egg in the center of each round, then cover the egg completely with the sausage, patting it well. Dip in beaten eggs and coat evenly with bread crumbs. Cook immediately or place on a large plate, cover with plastic wrap, and refrigerate up to 12 hours.
To cook, heat 3 inches of oil to 325 degrees in a deep fryer. Fry coated eggs, 1 or 2 at a time, turning them occasionally until crisp and golden, about 7 minutes. With a slotted spoon, transfer eggs as they are cooked to drain on paper towels.
Serve the eggs hot or chilled, plain or with mustard. Makes 12 whole or 24 half eggs.