Mother Linda's Ginger Cookies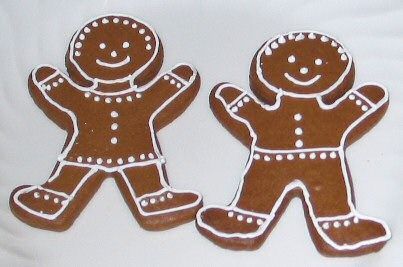 Christmas isn't Christmas without a good ginger cookie. For better-looking cookies roll the balls in white sugar before baking.
¾ cup butter
1 cup white sugar
¼ cup dark molasses
1 egg
2 cups white flour or spelt
2 tsp. baking soda
1 tsp. cinnamon
½ tsp. cloves
1 tsp. ginger
½ tsp. sea salt
Cream butter and sugar together; add molasses and egg. Sift together the flour, baking soda, spices and salt. Add to creamed mixture; stir. Chill batter for about an hour.
Roll into 1-inch ball. Roll in granulated sugar and place on a parchment-lined cookie sheet. Bake for 8-10 minutes at 375F. Place on a rack to cool.
Alternatively, you can roll the dough out to about 1/4-inch thickness and cut into gingerbread men like pictured. Bake for about 8 minutes or until crispy. Cool and decorate. Enjoy!