Holiday Cranberry Jell-O®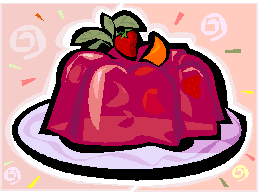 The American Midwest is the creative home of the Jell-O® salad. Many a time, I have marveled at the amazing concoctions as pieces of folk art.
This recipe is from my Aunt Dorothy. The difference about this recipe is that you use whole canned cranberries instead of fresh.
I have recommended cherry Jell-O, but you can use any red one.
1 large package cherry Jell-O®
1 cup boiling water
½ cup cranberry juice
15 oz. can whole cranberries
15 oz. crushed pineapple
1 cup sour cream
8 oz. pkg. cream cheese
Bring the water to a boil and pour over the cherry gelatin. Stir until the crystals dissolve. Add the whole cranberries and crushed pineapple. Refrigerate for several hours or until the gelatin is firm.
Bring the cream cheese to room temperature and then mix the sour cream and cream cheese together. Just before serving, spread the cream cheese/sour cream mixture evenly over the top of the salad.